The TRANSCAER® Program
Norfolk Southern works hard to ensure the safe transportation of hazardous materials by rail. A key part of that effort is voluntary participation in the Transportation Community Awareness and Emergency Response program, known as TRANSCAER®. At TRANSCAER®-related events in 2015, Norfolk Southern employees provided training for more than 4,792 emergency responders in 18 states to help communities across our network prepare for and safely respond to potential incidents involving rail transport of hazardous materials. Local first responders and government officials participated in classroom and hands-on training, table top simulations, and full-scale drills.
TRANSCAER®
Achievement Award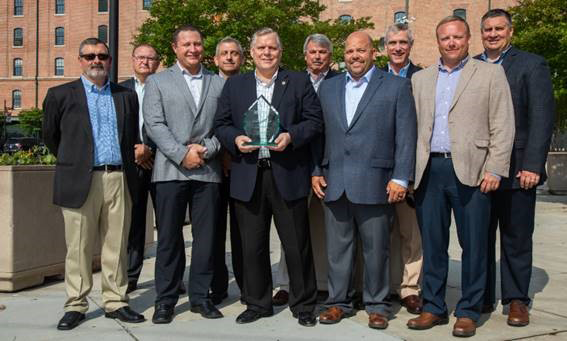 For the 15th time and 13th consecutive year in 2014, Norfolk Southern earned a National TRANSCAER® Achievement Award. The award recognizes exceptional achievement in support of voluntary efforts by companies and others to help communities prepare for and safely respond to incidents involving transport of hazardous materials.
Norfolk Southern hazmat safety train recognized by Safe America Foundation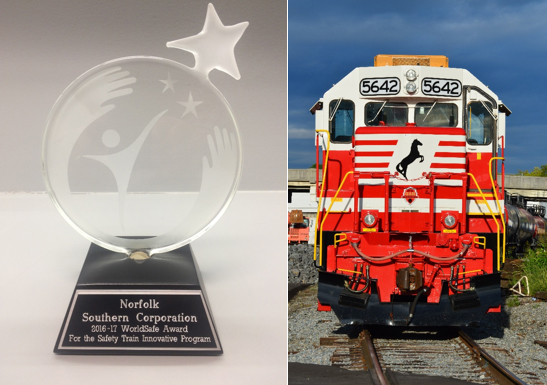 For its leadership in developing the safety train, Norfolk Southern has received a WorldSafe Award from the Safe America Foundation. The nonprofit, headquartered in Marietta, Ga., partners with corporate, government, and other nonprofits to improve public safety awareness and preparedness.
Safe America described the Travel Safety Award presented to NS as one of its most prestigious WorldSafe awards. NS was one of 14 companies, individuals, and organizations recognized by Safe America during a November 2016 banquet in Atlanta for their contributions to health and safety in the U.S. and globally. In addition to the safety train, NS was cited for its role in creating the AskRail mobile app, an industry safety tool that provides emergency responders immediate access to accurate, timely information about what type of hazmat a rail car is carrying.